The 8th annual
"Best of Fair Oaks"
Award Gala
Celebrate the 80's
Janurary 18, 2024
North Ridge Country Club
7600 Madison Ave, Fair Oaks, CA 95628
Tickets will not be available at the door. Please purchase early.
Sponsorships are also available with tickets to the event.
Click the Event ticket button for more details

We will be having a Gala event (dressed to impress) at the North Ridge Country Club on January 18, 2024@ 5:30pm. Voting for the 2023 awards will be from Nov 16 - Dec 21, 2023. Winners will be announced on January 18, 2024. This event is hosted by the Fair Oaks Chamber of Commerce, Voterfly and the American River Messenger.
This event is Presented and organized by our Fair Oaks Youth Outreach "FOYO" and proceeds from this event will benefit our Fair Oaks Chamber of Commerce and our youth scholarship program.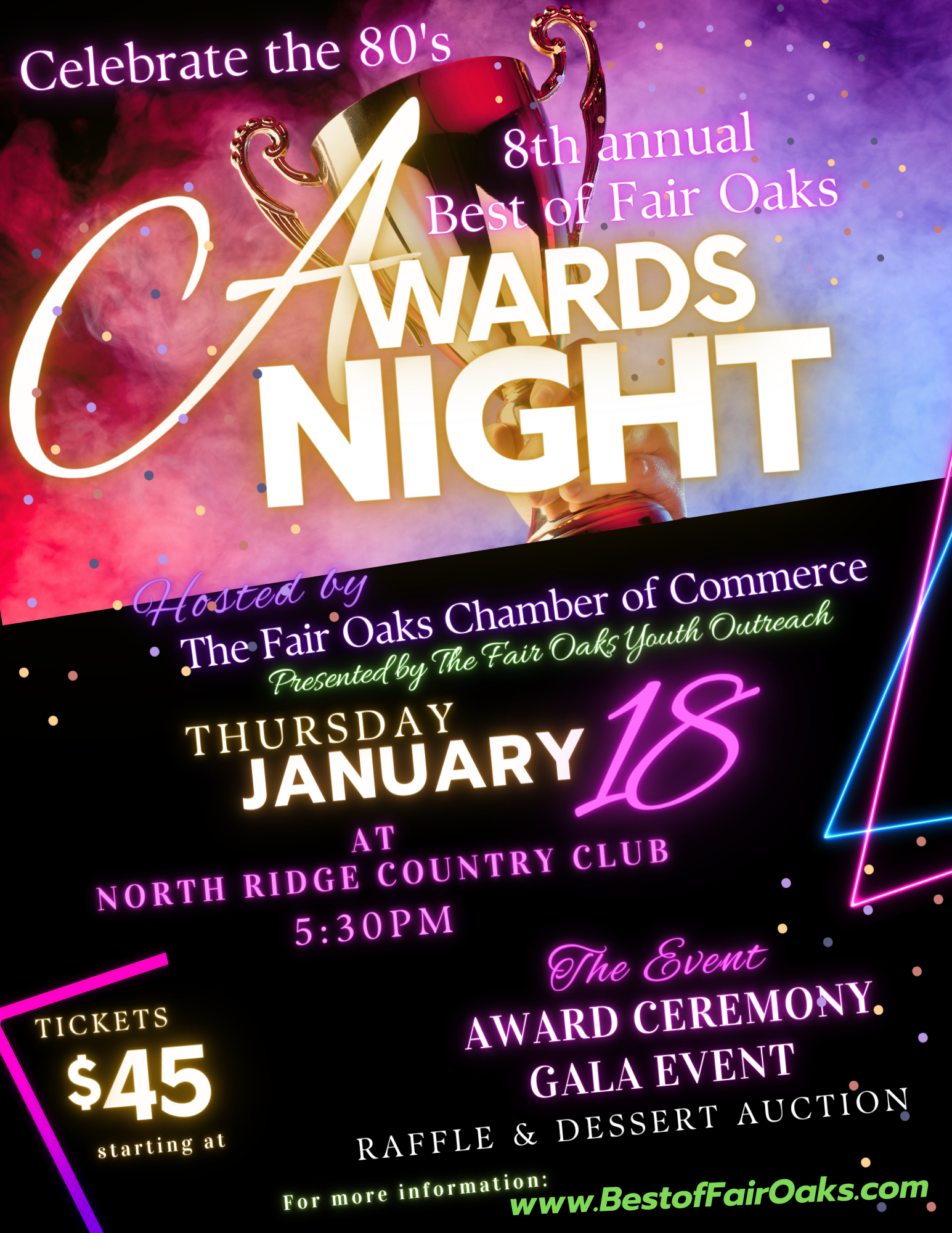 Best of Fair Oaks Rules & Guidelines
Nominees must do business (or work for non-business-related categories) within Fair Oaks or have an active Fair Oaks Chamber Membership. We verify all participants via Sacramento County Business License database, social media, and registered website. This rule is excluded for certain non-business-related categories.

The Best of Fair Oaks facilitators reserve the right to remove any business that has entered the competition incorrectly or has used marketing materials, badges, language, or behavior that is not in line with the competition. Participants who violate the rules will receive a written warning about the incident.

If a business is caught "Stuffing Ballots", which is breaking one of our security measures and submitting multiple ballots with the voting focus on the same business and or businesses. The software automatically flags these incidences and they are scrubbed from the final list. We have a responsibility to the businesses who participate to provide a fair and accurate voting process that ensures that no one abuses the integrity of the online competition.

Only one vote per category per person. Winners are chosen by people who fill out the online voting ballot. We will track IP addresses, if more than one person wants to vote within your household, they may not use the same computer, tablet, and phone, or shared network.

Businesses must choose and stick to no more than 4 category for the duration of the voting timeline.

All voting entries must have complete information or the votes will not be counted. By participating in the Best of Fair Oaks you grant us permission to use your business name, likeness, and or image for use in our marketing and promotional materials related to the competition and/or party. All Best of Fair Oaks competition results are held private by the Fair Oaks Chamber of Commerce and Messenger Publishing Group.

Winners will be announced and awarded at the Best of Fair Oaks Award Gala. Winners will receive a certificate, other promotional materials, and bragging rights. Winners will be showcased in the American River Messenger following the Award Gala.

The goal of the Best of Fair Oaks is to create awareness for all the great small businesses we have in Fair Oaks. We want the competition to be fun for all who participate.

*Hey - show us how you're celebrating that night - Take a picture and share it on Facebook or Instagram (Don't forget to tag us #BestofFairOaks #MyFairOaks #FOYO)
Hosted By